Frustrated with higher domain renewal price, delay response while facing issues and looking options for domain transfer in India?
If you're looking for a reliable and trustworthy registrar to transfer your multiple domains in India under a single DNS registrar, look no further than AGM Web Hosting! Correct, you've heard it right.
Many popular domain name registrars in India try all sorts of tricks to scare people from transferring their domain names. Some registrars would say you cannot transfer the domain after its expiry; While others would find other crazy excuses to hold.
The reality is that transferring domain names from any registrar to AGM Web Hosting is fairly easy, quick, and something that anyone can do if followed few basics right.
So you want to transfer your domain name to AGM Web Hosting, do you? That's awesome! If there are three things we love, it's fast domain registration and transfer, instant web hosting activation, and excellent customer support.
Domain Transfer in India: How do I transfer domain to AGM Web Hosting?
Now that you've chosen AGM Web Hosting to transfer your domain name from third-party registrar, the next step is to follow these two easy steps to successfully transfer your domain name.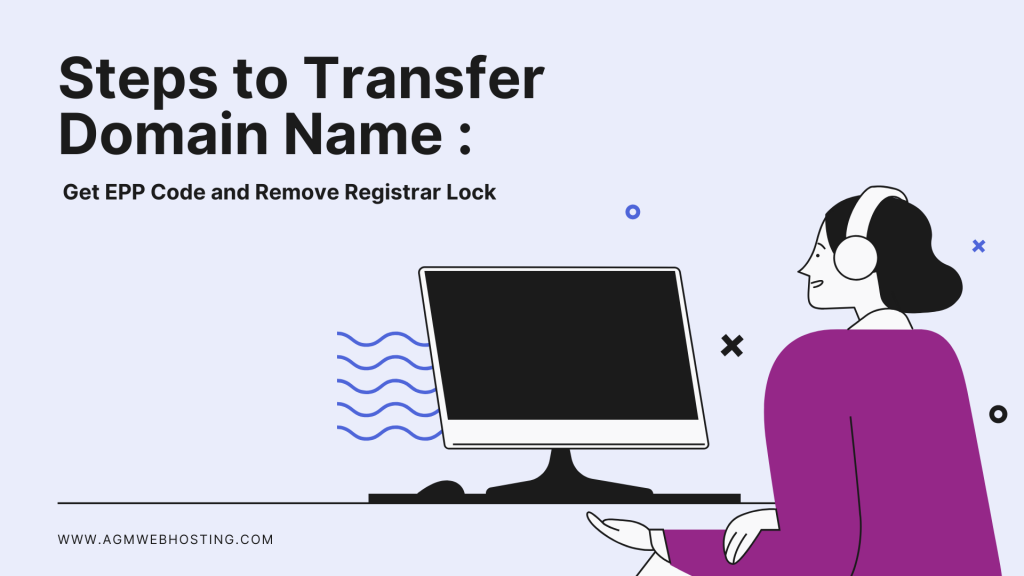 1. Get Authorization(or EPP) Code
This Auth Code, or EPP Code, or Domain Secret is indispensable for any domain transfer. As it prevents unauthorized or fraudulent domain transfers and ensures the person transferring the domain is, in fact, the domain owner.
You can find your domain's auth code either in the domain control panel of your current domain registrar or contact them to get one and they may email to the admin contact's email address of your domain name.
2. Remove Domain Registrar Lock
Basically, your domain can't be processed for the transfer if it's locked. So before you initiate a domain transfer request, trying removing domain registrar lock. This is very easy and something that you'll do on your current domain registrar's control panel.
Most domain registrars will refer to this as Registrar-Lock or Theft Protection. Select the option to disable the domain lock.
If you've successfully initiated the transfer request after inserting correct EPP code and removing registrar lock, you could do nothing and wait and this could take anywhere from a few minutes to 7 days depending on your previous domain registrar(old registrar) is.
Transfer a Domain Today
Transferring domain name is easy and pretty simple. Just remember: get authorization code and remove domain registrar lock.